Making a ballotine, a French dish, is a creative way to serve just about any kind of meat, fish or poultry. It is a piece of meat, sometimes the whole animal, as with duck or fish, that is completely boned. It is then stuffed with a variety of different stuffing choices, usually tied to secure the stuffing, and roasted or braised. Typically, the ballotine is served hot.
People often get the term ballotine and galantine confused. In the strictest definition, the galantine is also boned and stuffed, but it is not roasted. Instead, it is normally poached, providing a different flavor entirely. Unlike the ballotine, galantine is most often served cold.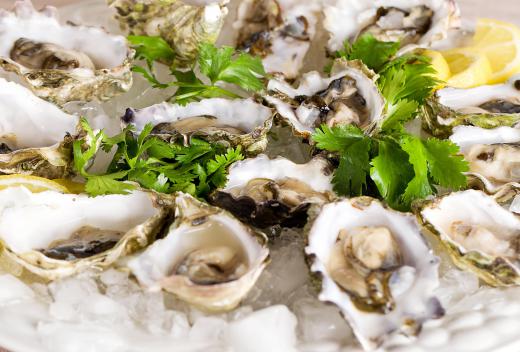 Many times when people think of stuffing, they think of breaded or rice stuffing. These can form part of the ballotine, but frequently, stuffing is comprised of additional meat from the same animal, sometimes called forcemeat, or of other meat products like pâté. Pâté de foie gras is a popular accompaniment in both beef and poultry dishes. A different take on the ballotine is Beef Wellington, which is covered with foie gras, pastry crust, and then baked. Beef Wellington is not a standard ballotine because of its pastry shell.
More likely, cooks will see recipes for chicken or duck ballotine, which may be partially stuffed with forcemeat, usually from the legs and thighs, combined with cream sauces, spices, or other meats like pancetta. Care must be taken when preparing the dish, just as cooks need to be careful when cooking a stuffed turkey. Generally, the interior temperature of the ballotine, especially in poultry, should reach at least 165°F (73.89°C).
Fish ballotine may be stuffed with a variety of herbs and spices, in addition to various sauces. It's also quite common to see it stuffed with types of shellfish like chopped crab, lobster meat, oysters or scallops. In many cases, the whole fish is used, but is carefully boned prior to preparing the dish.
Serving the ballotine is certainly a way of impressing guests. It is typically sliced in horizontal slices that display the stuffed interior. Chefs enjoy going for contrast, so the meat of the exterior usually looks different than its interior. Scallions are popular choices in ballotine stuffing since the green contrasts nicely with white or pink fleshed exterior meat.
In presentation, a person may receive one or more slices of the ballotine, perhaps topped with luscious cream sauce or gravy. Generally, the dish is not a low calorie food, containing high amounts of fat, especially when served with a rich sauce. On the other hand, as an occasional meal, it can really prove a delight to dinner guests.
AS FEATURED ON:
AS FEATURED ON:








By: Mat Hayward

Fish ballotine may be stuffed with oysters.

By: Fanfo

Duck ballotine is stuffed, then roasted or braised.