A barbecue wok is a kitchen tool that works well for grilling all sorts of foods on a barbecue grill. Cooking on the grill is made easier with this metal pan, which keeps the food a bit elevated from the actual metal grill, and often helps pieces of food to cook more evenly. The barbecue wok typically consists of a metal pan with many small holes, so that it looks kind of like a colander with two metal handles.
Essentially, the barbecue wok is a specialized version of the traditional wok that is used for stir fries and some Asian dishes. The traditional wok is a bowl shaped pan with a handle. The conventional wok does not have holes in it, which is the main way that the barbecue wok is different.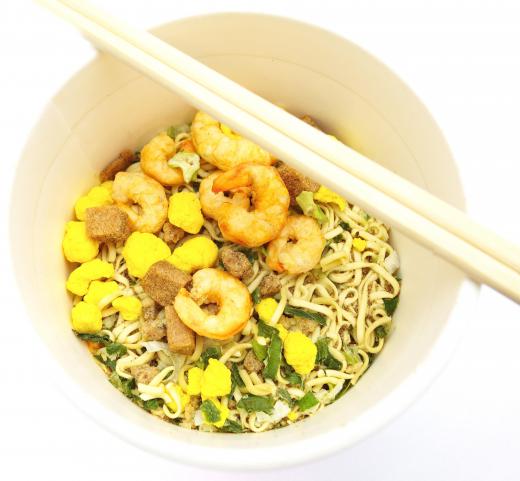 Many cooks will use the barbecue wok to stir-fry vegetables over a barbecue grill. These woks may be used with charcoal grills or gas-fired grills. Cooks may also combine meat and vegetables in the barbecue wok. These pans do not generally provide for cooking with the grill hood closed, which means it may require more time to cook the food through.
Many barbecue woks are made of metal alloys or coated with nonstick materials. This helps to prevent the food sticking to the wok surface. Some cooks may also use oils as nonstick agents. The handles of the barbecue wok allow the cook to move it to and from the grill safely, although in most cases, cooks need to wear gloves or mitts to avoid being burned if the wok surface has heated up considerably.
One additional benefit of the barbecue style wok is that when different foods are mixed together, the juices from meats or other fattier foods can permeate the mix. Grilling tends to release a lot of juice or fat when foods are exposed to high heat. The result with a barbecue wok is that stir fries can absorb some of the resulting juice, while some of it drains down into the grill.
Along with gloves or mittens for handling the wok, cooks may want to assemble various other accessories for these cooking pans. One is a heat resistant spatula for scooping foods out of the wok, or for moving them around to prevent sticking. Other accessories include aprons as well as spice rubs and other flavor ingredients for BBQ food.
AS FEATURED ON:
AS FEATURED ON:








By: torsakarin

Barbeque woks don't have holes like those traditionally used to stir-fry dishes.

By: Stepan Popov

Stir-fry dishes that are made in a barbecue wok can be served over nutritious brown rice.

By: Ivonne Wierink

A boat barbecue may be a fun option for boat owners who enjoy spending time on the water.