A lox bagel is a type of food, typically eaten for breakfast, that includes both lox and a bagel. Lox is salmon that has been prepared through a combination of curing and smoking. A bagel is a ring-shaped piece of bread that is meant to be eaten in a single serving. There are a variety of different ingredients that can also be eaten on a lox bagel, including cream cheese, capers, onions, and dill.
The main component of a lox bagel is the bagel itself. This type of bread product was first created in Poland and is made from wheat flour, yeast, and water. Traditionally, a bagel is boiled and then baked, though it is common to find bagels that have only been baked. Sweeteners, such as honey or sugar, as well as fruits and seeds are also commonly mixed into bagel dough before it is cooked. Cooked bagels can also be rolled in seeds, dried onions, or other toppings, making it possible to use bagels of different flavors in a lox bagel.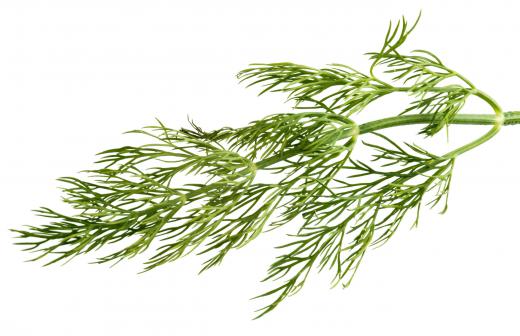 Lox is also necessary in a lox bagel. In order to make lox, raw salmon is placed in brine that contains water, salt, and seasonings. It is allowed to cure for a time before it is removed from the brine and smoked at a temperature that is usually below 80 degrees Fahrenheit (26.7 degrees Celsius) so that the fish does not cook as it is preserved by the smoke. Though it is possible to smoke salmon at higher temperatures, lox is traditionally uncooked and smoked through a cold smoking process.
When preparing a lox bagel, the bagel is usually sliced in half in such a way that the ring shape remains intact. The lox is then placed on the bagel halves, or between them, and the dish is eaten like a sandwich. If cream cheese is used, it is usually placed directly on the bagel, giving the lox and other possible ingredients, like onions or capers, something to stick to.
Lox bagels can be found in many parts of the world, though they are most common in Northern Europe and North America, where bagels and smoked salmon are both commonly eaten. This type of food was brought to Canada and the United States by Jewish immigrants and is still popular in North American Jewish communities. England, Germany, and Poland are some of the most common places to find lox bagels in Europe.
AS FEATURED ON:
AS FEATURED ON:








By: Viktor

Dill is often used to garnish a bagel with lox.

By: PhotoEd

Lox is a thin filet of cured, cold smoked salmon.

By: Lisa F. Young

Lox is commonly served on a bagel with cream cheese.

By: m.u.ozmen

Wheat flour is used to make lox bagel dough.

By: diego cervo

A lox bagel can be made at home using an onion, garlic, or other savory bagel.