When a large pie is too much food, or when a cook wants small, elegant servings, he or she may want a tartlet tin. A tartlet is a small version of a tart — that is, a pie without a top crust. A tartlet tin, then, is a small pan in which the tartlet is baked.
A tartlet tin may have straight or slightly slanted sides. Most of the time, these sides are fluted, although some may be smooth for a different look. A tartlet tin may also come in varying sizes, from those small enough to hold only a half-teaspoon or so of filling, to those large enough to make small pies — about four inches (10.1 centimeters) across. A cook using a tartlet tin may want to make small pies, quiches, hors d'oeuvres, petits fours and a variety of other sweet or savory snacks. Some recipes are especially for use with a tartlet tin, while others must be modified.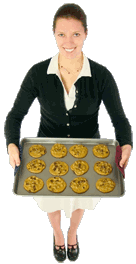 The tartlet tin may be made of a variety of materials. Some are made of real tin plate, while others are made of aluminum bakeware, copper or non-stick materials. Most of the time, tartlet tins are sold in groups of different sizes, and sometimes, in different shapes, such as square, round and oval. All are safe for oven use.
Using a tartlet tin is not difficult — it simply requires a different technique than a larger pan. Since most tartlet tins are quite small, the cook cannot place them on the oven rack. Instead, he will generally put the tins on a cookie sheet to bake them.
The cook must also carefully watch the tartlets. The extra thickness of metal on the bottom may mean a longer cooking time, but it also means the tartlets will brown more quickly, so the cook has to time the baking with precision. This is the time to carry the kitchen timer in a pocket! Because the cooking technique is different when using a tartlet tin, the cook may want to make a small, simple recipe to practice using the tins. This will enable him to learn how a tartlet tin bakes in his particular oven, since ovens vary.
The tartlet tin is available nearly everywhere cooking supplies are sold. For special shapes or sizes, the cook will probably need to visit a specialty kitchen store. The tartlet tin is sold in sets, starting at about 5 US dollars (USD).
AS FEATURED ON:
AS FEATURED ON:








Woman baking cookies