Essentially, if you see something in a bar and you can't drink it, it would be considered barware. Barware consists of the glasses, stemware, shakers, mixers, knives and other tools used by bartenders to prepare and serve alcoholic beverages. Some combinations of barware may be called bar sets or shaker sets, but 'barware' is the overall term for all accessories found in a professionally-stocked bar.
One of the most important elements in barware is a proper set of glasses. Wine needs to be served in specialized glasses with long stems, for example. Since wine needs to remain chilled as long as possible, the stem allows the customer to hold the glass without warming it with his or her fingers. Short but wide tumblers allow liqueurs and mixed drinks to co-mingle with ice cubes without crowding the glass. A shot glass allows patrons to enjoy a more concentrated dose of whiskey or other hard liquor without the need for ice. Frosted mugs help beer drinkers keep their beverages cold. A glass pitcher can make Sangria easier to prepare or keep a supply of frozen drinks handy.
Barware also includes special tools for drink preparation. A mixing spoon is good for measuring separate ingredients and blending them together. Some drinks may be prepared in a cocktail shaker, a two-piece manual mixer consisting of a cylinder and a cap. Another tool called a strainer fits over the shaker's lip to keep ice and fruit out of the finished martini or mixed drink. A good blender designed for frozen drinks would also be considered essential barware.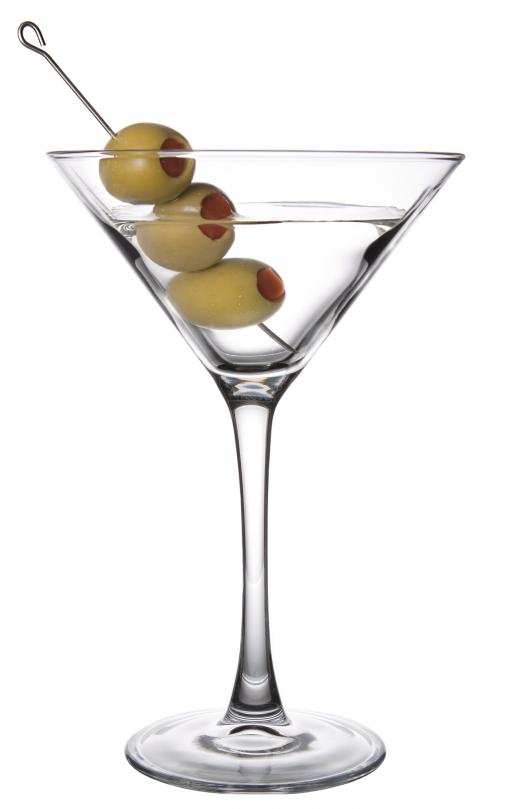 Other barware could include bottle stoppers and pourers. Some pourers are designed to dispense a premeasured amount of alcohol, typically 1 1/2 to 1 3/4 ounces in a traditional shot. A good multipurpose bar knife is also useful for preparing fruit garnishes and cutting up individual ingredients for blended drinks. Trays for holding fruit, olives, pearl onions and other drink garnishes would also be considered barware.
Those interested in stocking a home bar with proper barware may want to consult a book or two on the art of mixology first. It helps to know what accessories are necessary to produce your preferred beverages. Some barware is sold as a set, like glassware and basic measuring tools. Other pieces may have to be purchased separately as the need arises. Kitchen supply stores may have a much wider selection of barware than department stores. There are also barware suppliers on the Internet who can help customize an entire home wet bar. Barware doesn't have to be prohibitively expense, but be prepared to replace glasses and mugs from time to time.
AS FEATURED ON:
AS FEATURED ON:








By: Elenathewise

A wine glass.

By: dondesigns

A martini glass is a type of barware.

By: Elenathewise

Water in a highball glass.

By: karandaev

A jigger is used to measure alcohol to make a martini.

By: Lulu Berlu

A bartender shakes, then pours, a mixed drink from a shaker, which is considered barware.

By: Ahileos

Shot glasses are a staple of barware.

By: Bill Wilson

Bars that are used in a home setting to mix alcoholic beverages are referred to as wet bars.

By: bit24

Pitchers are useful when making large batches of drinks.