Buche de Noel is a classic French dessert, normally served at Christmas celebrations. One may also hear Buche de Noel referred to as a Holiday Log, Yule log, or holiday log cake. The finished Buche de Noel is quite impressive, as it does resemble a log, and may be sprinkled with powdered sugar to imitate the look of snow.
Some cooks use a vanilla genoise to make the Buche de Noel, and others prefer a chocolate genoise. Either is acceptable. A genoise is simply the French term for a sponge cake that tends to use quite a few whole eggs. Preparing the genoise is probably the easiest part of making a Buche de Noel, though one must be very careful not to overcook the cake.
Generally the genoise batter is poured into long thin pans, so that typically, the cake does not rise significantly. This is important since a cake that is too thick can be impossible to roll without cracking the "log."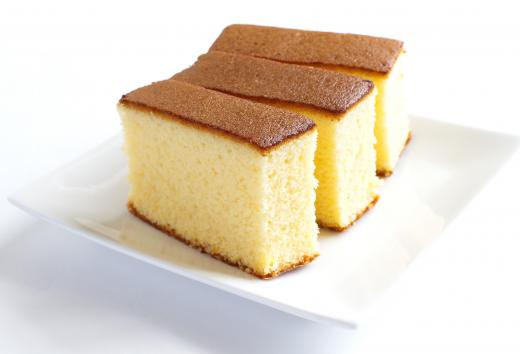 When the genoise is fully cooled, assembly of the Buche de Noel begins in earnest. The cake may be frosted on the top first, or it may be covered in a layer of whipping cream. Once the frosting or cream is on, the Buche de Noel is rolled up slowly and carefully to make the log.
If the Buche de Noel cracks a little in this process the less experienced cook should feel no shame. The Buche de Noel is frosted with a thick layer of chocolate butter cream, so one can skillfully hide a few cracks with frosting. Often when the Buche de Noel is frosted, a fork is pulled through the frosting to give an overall more rugged and loglike look to the cake.
The Buche de Noel may be garnished with berries, echoing the red colors of holly berries. Alternately, some prefer to use marzipan shapes around the cake. Some bakers make a Buche de Noel that lies on the serving dish, and one that stands straight up in the middle. For the beginner, this architectural feat is quite challenging.
Buche de Noel is almost always dusted with powdered sugar as a finishing touch. Individual decorations around the Buche de Noel should go on before the powder sugar dusting, so all can appear as coated with snow.
A quite similar cake to the Buche de Noel is the jellyroll. This is made with a white genoise and filled with whipped cream and strawberry or raspberry jam. It is usually not frosted on the outside, so requires extra care during the rolling process. Some lucky families have talented cooks who make both the Buche de Noel and the jellyroll as part of a Christmas dessert. These cakes are excellent paired together and are sure to delight one's guests.
AS FEATURED ON:
AS FEATURED ON:








By: torsakarin

'Genoise' is the French word for sponge cake.