What is White Whole Wheat Flour?
White whole wheat flour is all grain wheat flour that has been milled using "white" or albino wheat rather than the traditional red wheat. It retains many more nutrients than the traditionally bleached white flour. This type of flour produces products that taste more like they were made with bleached flour, so it is often considered the ideal compromise between taste and proper nutrition. Many supermarkets carry packaged loaves of bread that are made using this flour.
The flour may be used in any recipe that calls for the use of bleached flour. This means that it is possible to make loaves of bread, cakes, puddings, pie shells, and gravies using white whole wheat flour. There is little difference in the taste when compared to bleached flour, so the substitution will not impact the flavor of the recipe. At the same time, its use helps to ensure that the daily diet contains some of the essential vitamins and nutrients that people need to consume each day.
The basis for creating white whole wheat flour involves the choice of wheat used to produce the product. Standard whole wheat flour is made using what is known as red wheat. This wheat is darker in color and tends to naturally retain more of that darker hue during preparation. By contrast, white whole wheat flour is made with the use of what is commonly referred to as albino wheat. This type of wheat grain has a lighter hue and requires much less treatment to produce a shade of flour that is identical to that of bleached flour. While some people believe that the flour has a sweeter flavor than bleached flour, most people cannot taste the difference between the two.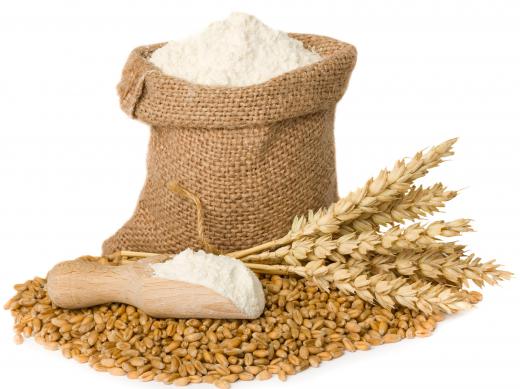 Purchasing white whole wheat flour products has become much more convenient. Many supermarkets now carry 1 and 5 pound (0.45 and 2.26 kg) bags along with the traditional bleached flour. In some cases, it is now possible to purchase both plain and self-rising versions. While it tends to cost a little more than bleached flour, the difference in nutritional value makes the product well worth the higher price tag.
AS FEATURED ON:
AS FEATURED ON:








Wheat ears along with a small pile of wheat kernels (also known as wheat berries).

By: airborne77

Wheat and white whole wheat flour.

By: Studio Gi

Albino wheat is used to make white whole wheat flour.

By: Irochka

Whole grain white breads typically have higher levels of fiber and nutrients than those made from bleached white flour.