Dent corn is a variety of corn that is higher in starch and lower in sugar than table corn, the type of corn eaten as a vegetable. There are a wide range of uses for this grain, which is one of the most cultivated crops around the world. In addition to being used as a source of food for humans, it provides corn starch and other byproducts that can be processed into an assortment of things, from biodegradable plastics to fuels. Some people also call dent corn "field corn" to distinguish it from table corn.
The origins of corn as a crop date back to early Mesoamerican cultures, which first tamed the wild relatives of the plant to turn them into a usable food crop. In order to be edible, the cereal grain must be processed, typically through grinding it into a flour or soaking it in lye or other substances to soften the outer shell, as is the case in corn masa. Soaking the corn in lye also frees the niacin bound up in the kernels, making it more nutritious. Other varieties of corn include popcorn, flour corn, sweet corn, and waxy corn.
The stalks of dent corn usually grow larger than the corn's sweeter cousin, and the individual kernels have distinctive dents along their sides, which led to the common name. The corn is often dried for processing, and is available for sale in a number of different formats including whole cobs, individual kernels, and ground flours. It may also be further refined to extract an assortment of useful compounds.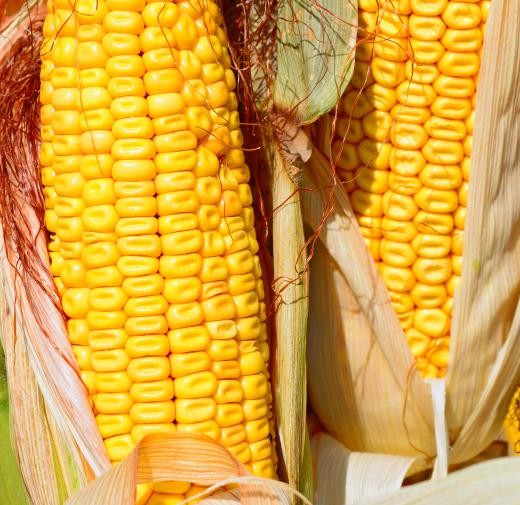 Animal fodder often includes this type of corn as a source of nutrition, and since it grows cheaply and readily, it is often used to bulk up fodder for feedlot raising. Since the firm kernel has a variety of uses, it is very important economically, especially in some regions of the United States. It grows best in regions with long, warm summers which allow the ears of corn to fully mature, and when processed properly, they can be stored for up to two years.
Consumers rarely interact directly with whole kernels of dent corn, but they indirectly consume or handle many products that depend on it every day. Most meats are produced from animals fed on it, many cosmetics include its byproducts, and an assortment of foods ranging from corn syrup to starches use it as a constituent ingredient.
AS FEATURED ON:
AS FEATURED ON:








By: Gordan Jankulov

Some people call dent corn "field corn" to distinguish it from table corn.

By: smereka

Dent corn is the most cultivated crop in the world.

By: mbongo

Corn oil is a byproduct of dent corn.

By: Sea Wave

Corn Starch is a byproduct of Dent Corn.

By: AZP Worldwide

Dent corn stalks are usually bigger than sweet corn stalks.