What is Ginger Soy Sauce?
An Asian condiment, ginger soy sauce contains the traditional soy sauce infused with ginger. Soy sauce, whose base is the liquid from fermenting soy along with salt and a water base, is a popular flavoring. When ginger is added to this, it provides a depth of flavor the plain sauce does not have. Ginger can be added to the soy sauce in a variety of methods.
Both the Chinese and the Japanese favor the flavoring of soy sauce in their cooking. Both styles of cooking also use ginger heavily as an ingredient in numerous recipes. Ginger soy sauce provides both flavoring and convenience when cooking.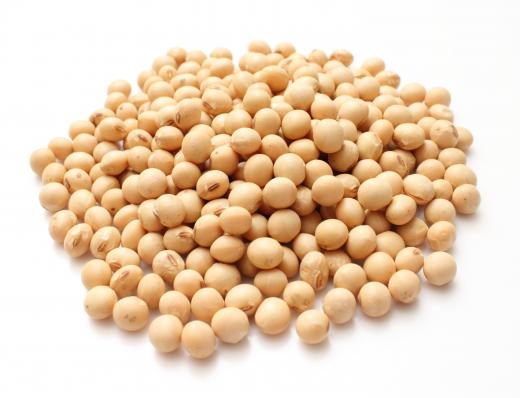 While soy sauce with ginger can be made using many different techniques, the way it is made is most often dictated by the way it will be used. A ginger soy sauce used for dipping will often contain chunks or small diced bits of ginger within the sauce itself. Sesame oil may be added to this mixture, along with some white pepper for added heat. This sauce is best used after having its ingredients combined for more than a day, as the flavors are given the opportunity to truly be enhanced by having the opportunity to marinate and come together.
For a traditional ginger soy sauce, only soy sauce and ginger are added. The two ingredients are mixed together, and more or less is added dependent on the taste desired. These ingredients are then brought to a rolling boil, which melds the two flavors more quickly than those methods that require overnight marinating. This type of ginger sauce is often served hot, but can also be served at room temperature. Ginger soy sauce is not traditionally served cold.
While there are many recipes for homemade ginger soy sauce, there are also many pre-made varieties. These offerings come in many different taste combinations. Some have a lot of heat and spice, while others tend strongly toward a sweeter taste, having had sugars and sweeteners added to bring out a different element of the flavor combination of the ginger and the soy.
AS FEATURED ON:
AS FEATURED ON:








By: terumin

Soy beans.

By: tashka2000

Ginger is infused into soy sauce for a condiment.

By: Matthew Antonino

Bacon-wrapped scallops with a ginger soy dipping sauce.

By: ginauf

Adding ginger to an Asian soy dipping sauce gives it a more complex flavor.