Garbanzo beans, which may also be called chickpeas, are a member of the legume family. Instead of having the flat oval shape of most beans, garbanzo bean are often a pale cream and mostly round in shape. These legumes were domesticated very early, possibly even 5,000-10,000 years ago, and evidence of their use is found in archaeological digs in places like Turkey, France, and Israel.
Many people associate garbanzo beans with a variety of Mediterranean cuisines. They are the essential ingredient for hummus, are powdered to make falafels, and are used in a variety of soups and stews. Most minestrone soups contain them, and diners also find them in a variety of Southern Asian cuisines; they're commonly used in India in certain types of curry.
They've also made their way to Spanish cuisines, and on to many dishes in Central and Latin America. These beans are a typical accompaniment to the classic Canary Islands dish ropa vieja. In the US, most people are used to seeing them in dishes like three-bean salad, a mix of kidney, garbanzo, and green beans in a savory vinaigrette.
The popularity of garbanzo beans may be due to their inherent nutritional value. A cooked cup (164 grams) is an excellent source of dietary fiber, and provides substantial levels of important nutrients like iron and folate. They also are a high protein food, with just under 15 grams of protein per serving. These nutrients are paired with relatively low calories, only 269 per cup.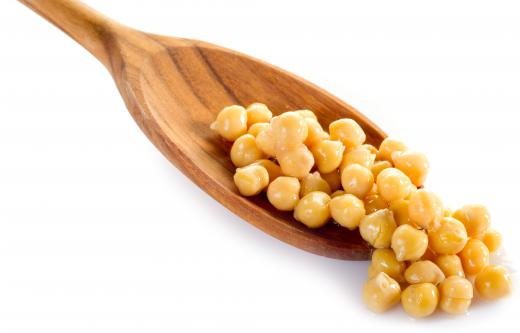 Garbanzo beans have a light, buttery flavor. They're not strong in taste, and will readily absorb most other flavors, spices, or seasonings. These beans are easily added to nearly any soups or stews a cook makes and will provide extra heartiness and excellent additional nutrition.
Shoppers can buy chickpeas dried, though they are more commonly sold in canned form in many places. Though cream-colored beans are most common, other colors — like those with flecks of red or black or that are fully green or fully red — are available and can make for fantastic visual appeal. Color is only part of the difference, since there are two general varieties of these beans. Those lighter in color and also somewhat larger are called kabuli, and smaller ones that are not as smooth and are darker in color are called desi.
AS FEATURED ON:
AS FEATURED ON:








By: Nika Novak

Dried garbanzo beans.

Garbanzo beans.

By: Rinaldo Wurglitsch

Garbanzo beans are a key ingredient in the dish ropa vieja.

By: Melastmohican

Adding garbanzo beans to soups make it extra hearty with high protein value.

Garbanzo beans are the main ingredient in hummus.

By: B. and E. Dudzinscy

Three bean salad often includes green and yellow beans along with garbanzos.

By: Maris Kiselov

Some Indian curries are made with garbanzo beans for added protein.