Tiropitas are a Greek food made with phyllo dough and a savory filling. They are extremely popular as appetizers, especially filled which cheese, the classic tiropita filling. The baked savory food is also sometimes offered as part of a large dinner spread, so that guests may have small sample bites of a variety of foods. Some Greek delis carry tiropita, and they are also relatively easy to make at home.
In Greek, the name means "cheese pie," and the dish is related to spanakopita, or "spinach pie." A traditional tiropita has a mixture of cheeses including feta wrapped up in a crust of phyllo dough and baked until golden. Traditionally, tiropita is wrapped up like a triangle, making it easy to handle with the fingers. More enterprising cooks use a variety of ingredients in their tiropita, including vegetables and meats.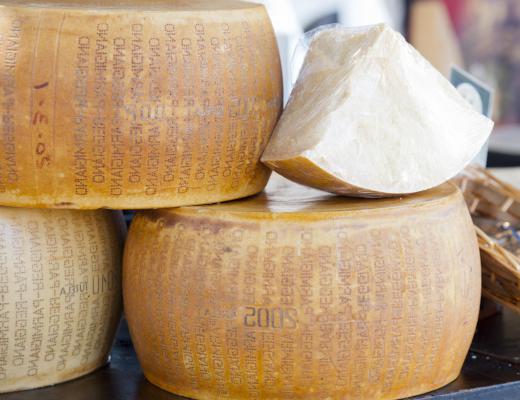 The triangles can be made in any size, with the cook dictating the ultimate size of each triangle. The flexibility of size and fillings allows cooks to make large plates of tiropita appetizers, making an assortment of plain, vegetable, and meat tiropita. Leftovers also make superb breakfast food, and they can be wrapped in wax paper and taken for lunch as well. Some cooks make tiropita in a large pan like spanakopita, cutting the finished pie into wedges.
To make basic traditional tiropita, you will need a block of feta cheese, two eggs, ½ cup of a soft farmer's cheese, two tablespoons of kefalotyri, salt, pepper, nutmeg, butter, and phyllo. Kefalotyri is a Greek hard cheese, and in regions where it is not available, Parmesan can be used as a substitute. To make the filling, blend the cheeses together with the spices and eggs, making sure to mix evenly so that the filling is not chunky. If you have purchased phyllo frozen in a store, allow it to thaw overnight in the fridge, and take it out approximately one hour before you plan to make the tiropita.
Melt butter in a saucepan before laying your phyllo out on a clean workspace and cutting it in half to make long rectangles. Peel a sheet off, place a small amount of filling onto it, and bundle it into a triangle. Brush the triangle with butter before pulling out another sheet of phyllo and wrapping it around the first, brushing the finished triangle with butter. Set it on an oiled baking sheet, and continue making triangles until you have run out of dough or filling. Bake the triangles in a 375 degree Fahrenheit (191 degree Celsius) oven for 25 minutes or until golden brown. Serve hot or cooled.
AS FEATURED ON:
AS FEATURED ON:








By: Yves Roland

Parmesan is a hard, aged cheese used in many dishes.

By: uwimages

Tiropita contains salt and pepper.