Tsatsiki, or tzatziki, is a tangy Greek yogurt sauce which can also double as an appetizer or dip. Many people who have tried Greek cuisine are familiar with tsatsiki, since it is the classic accompaniment for souvlaki, a very classic Greek food. The sauce is tangy with a hint of sweetness and an additional kick from the garlic which is traditionally added. Some markets sell packaged tsatsiki, but it is also very easy to make at home.
The main components of tsatsiki are Greek yogurt, cucumber, and dill. Greek yogurt is a naturally thick, savory yogurt with a very rich flavor. Some markets sell Greek yogurt, but if Greek yogurt is not available in your area, you should use a full fat, plain yogurt which is as thick as possible. To make the yogurt even thicker, line a colander with cheesecloth and pour the yogurt into the colander. Allow the colander to sit, refrigerated, overnight, with a bowl underneath to catch the liquid from the yogurt.
This tangy sauce actually improves with overnight storage, since this allows the flavors to mix more evenly. Cooks can mix up a batch ahead of a Greek style dinner, allowing themselves to focus on the main courses on the day of the dinner, or they can keep a small tub of tsatsiki around for snacking. In addition to pairing with souvlaki, tsatsiki can also be used as a bread or vegetable dip, or eaten as an appetizer. It can also be served with Indian and Middle Eastern foods; many of these cultures have some version of a tangy yogurt sauce to eat with falafel, shish kebabs, spicy curry, and other foods.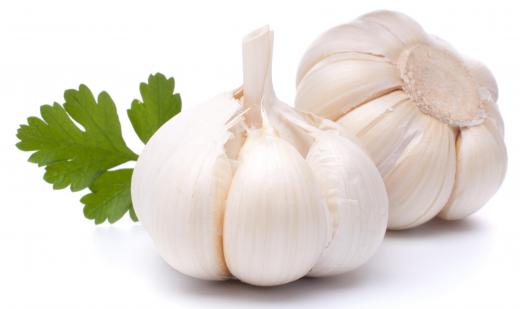 To make a small batch of tsatsiki, start by peeling and halving a cucumber so that you can scrape out the seeds. Shred the cucumber with a sharp knife or grate it, and then salt the shreds and place them in a colander in the sink to allow the liquid in the cucumber to drain. Finely mince two cloves of garlic into a medium sized bowl; you can also grate the garlic or force it through a garlic press. Add a tablespoon of oil and a tablespoon of lemon juice or vinegar, depending on personal taste, and then mix in two cups of yogurt.
Squeeze the cucumber shreds in your hand or through a cheesecloth to extrude the liquid, and add them to the yogurt mixture. Stir the tsatsiki thoroughly, and add salt and pepper to taste. You can also add a small amount of snipped fresh dill or mint for additional flavor, although some people find this unnecessary. The yogurt and cucumber sauce is traditionally served cold; if you can, refrigerate it for at least two hours before serving to allow the flavors to mellow and settle, and taste it before serving to make any needed last minute adjustments.
AS FEATURED ON:
AS FEATURED ON:








A gyro sandwich with tsatsiki.

By: Natika

Garlic, which is used in making tsatsiki.

By: angelo.gi

Tsatsiki contains Greek yogurt.

By: margo555

A sprig of mint adds flavor to tsatsiki.

By: Denis Tabler

Tsatsiki can be used as a dressing for Greek salad.

By: Dreadlock

Making tsatsiki will require a colander.

By: food pictures studio

Cucumber is an important component of tsatsiki.