Macaroni salad is a cold pasta salad commonly served as a side dish during picnics, barbecues and covered dish "potluck" dinners. The main ingredient in a macaroni salad is obviously macaroni pasta, but the shapes can vary from elbow to rotini to shell. The form of the pasta should be relatively small in size in order to accommodate all the mixing of other ingredients and dressing. A typical macaroni salad contains cooled cooked pasta, chopped sweet or dill pickles, diced hard boiled eggs, green bell peppers, diced celery and mayonnaise or salad dressing. Recipes for macaroni salad can vary widely from region to region.
A good macaroni salad starts with a supply of cooked macaroni pasta which has been rinsed in cold water and allowed to drain. Cold pasta salads perform better when the starch has been rinsed off the pasta, unlike spaghetti dishes in which the sauce should stick to the unwashed pasta. When using shell macaroni or other shapes with pockets, the pasta should be shaken vigorously to remove any excess water trapped in the folds.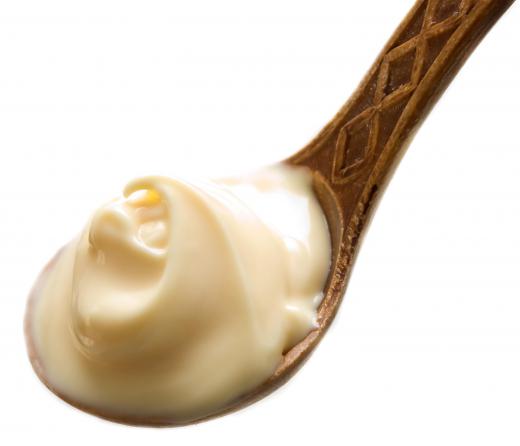 The cooled pasta can be placed into a large mixing bowl while the other ingredients are prepped. Proportions of these additional ingredients are a matter of preference, but in general the ratio should be in favor of the pasta, not the accessories. Chopped pickles or pickle relish give macaroni salad a pleasant sour bite, but should be used sparingly to avoid overpowering the overall dish.
Following the addition of chopped pickles, some macaroni salad recipes call for a few pieces of diced green bell pepper for color and flavor. Celery could also be used to give the macaroni salad a crunchy texture, but a little does go a long way. Chopped hard boiled eggs, both whites and yolks, can also be added to macaroni salad to give it a chewier texture and absorb some of the flavors created by the dressing as the ingredients marry.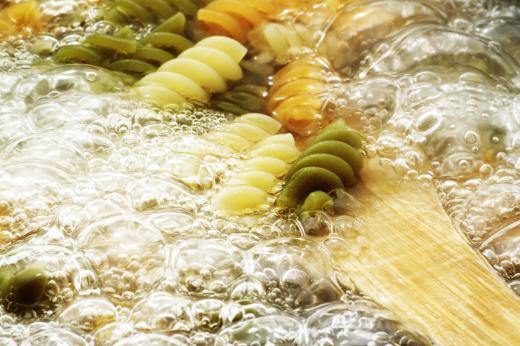 Additional ingredients could include finely diced white or green onions, celery salt or Italian herbs such as oregano and dried parsley. Some recipes allow for dill weed if the pickles are omitted. This mixture of pasta and other ingredients should be gently mixed together in the bowl.
Different dressings may be used to make a flavorful pasta salad, but traditional macaroni salad generally uses a tangy blend of mayonnaise and vinegar or a creamy salad dressing to bind all the ingredients together. A generous supply of mayonnaise or salad dressing may be required to get the pasta mix to a creamy consistency, but too much dressing can make the macaroni salad too "wet." The finished macaroni salad should be refrigerated before serving in order to allow the flavors to mix and the entire salad to tighten up.
Some macaroni salad recipes, especially in the Deep South, suggest using a traditional mustard potato salad recipe, complete with pickles, eggs and celery, and merely substituting the boiled potato cubes with cold macaroni pasta. While a mustard dressing for macaroni salad may not be traditional, it does provide a sharper bite than plain mayonnaise and works well with other barbecue side dishes such as baked beans and coleslaw.
AS FEATURED ON:
AS FEATURED ON:








By: Alexandra

Mayonnaise is a common base for macaroni salad.

By: Natika

Macaroni salad may contain diced hard-boiled eggs.

By: isrgil

Rotini is often used in macaroni salad.

By: Barbara Pheby

Parsley can be used to season a macaroni salad.

By: SunnyS

Macaroni salad commonly contains salad dressing.

By: Gleam

Shell pasta can be used in macaroni salad.

By: Taiga

Some people add oregano to their macaroni salad.

By: andersphoto

Celery is a typical ingredient in macaroni salad.

By: Monkey Business

Creamy macaroni salad is a popular side dish at backyard barbecues, particularly in the southern United States.

By: micromonkey

Macaroni salad is a popular picnic side dish.