Oat cereals are breakfast foods made from the grain of the same name. Oats, or Avena sativa, are a cereal grain that can thrive in adverse growing conditions. A variety of these cereals are manufactured and made at home, including oatmeal, bran, and muesli, as well as granola. Hulled oats typically still have the bran and germ intact, making these cereals major sources of fiber and nutrients.
Oatmeal is one common type of oat cereal, containing dry, crushed, or rolled oats cooked with water or milk. Oats are initially smashed to remove the husk, exposing the seed, or groat, then heated in some way before processing to give the oat a full, nutty flavor. Steel-cut oats are tiny, broken groats sometimes steamed and flattened and sold as "rolled." Quick oats are cut into small pieces before steaming and rolling, and instant oatmeal has already been cooked then dried again. It comes in a variety of flavors including fruit and cream, or maple and sugar.
When high-protein oats are milled, the bran is sometimes reserved and made into a hot cereal mix. Oat cereal made from bran is cooked with water or milk. Oat bran is also sold as cold cereal in the form of flakes, where the bran has been bound together and baked for a crispy texture.
Muesli is an additional dry oat cereal. Oats are soaked in liquid, typically water or fruit juice, then mixed with a variety of additional ingredients. Common ingredients include dried or fresh fruit, nuts and seeds, and honey or natural sweeteners. Muesli can be made at home with raw rolled oats or purchased ready-to-eat.
Granola oat cereal was created by Dr. James Jackson in 1894, this early form being made from graham flour. Oat granola came into known existence during the mid-1960s, when additional ingredients, including dried fruit and nuts, were added. Oats are mixed with honey, nuts, and often dried fruit in this cereal and then the ingredients bake, with the cook stirring several times to keep them broken into small pieces.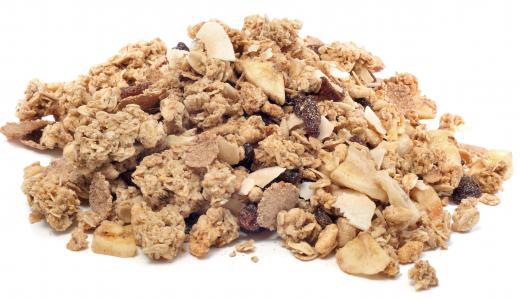 Whole oat cereal provides a significant source of micro-nutrients like manganese, selenium, and phosphorus, among other nutrients. Healthy oat cereals containing the whole kernel oats help to lower cholesterol, and the daily intake of fiber in one bowl of oatmeal can decrease cholesterol between 8 and 23 percent. Other health benefits include improved cardiovascular functioning, stabilizing blood sugar, and boosting immunity. Oatmeal also works well as a first food, and infants 4 months of age or older with no digestive issues may eat it.
AS FEATURED ON:
AS FEATURED ON:








By: eAlisa

Oats.

By: fabiomax

Muesli is a type of oat cereal.

By: nito

Granola is a type of oat cereal.