Pepper relish is any relish recipe that calls for peppers as the main ingredient. These recipes may feature spicy peppers, sweet bell peppers, or a mixture of both. There are many different kinds of pepper relish recipes, so cooks interested in making some of their own should be able to find one they enjoy. Many people eat pepper relish as an alternative to high-calorie condiments like mayonnaise and salad dressing. The relish adds flavor and nutrition to meats, salads, and sandwiches. It may also be eaten as a salsa or dipping sauce.
Every pepper relish recipe starts with one or more kinds of peppers. Very spicy pepper relishes usually include dried spicy peppers because the heat often intensifies during the drying process. These recipes often also feature a number of mild vegetables, like cucumbers and tomatoes, to help keep the heat from becoming overwhelming. Some cooks may even stir in a few spoonfuls of honey and granulated sugar. The sweetness is said to provide a pleasant counterpoint to the capsicum present in most hot peppers.
Sweet pepper relish is also very popular. While these recipes may contain spicy peppers, they more often include bell peppers. Yellow, orange, and red bell peppers are particularly sweet and often create a pleasing color palette. These sweeter mixtures may also include balsamic vinegar, honey, and molasses in the base. Other foods that might taste good in a sweet relish include sweet onions, chopped grapes, carrots, and garlic. Those who don't like the heavy flavor of balsamic vinegar may replace it with cider or rice vinegar, both of which typically taste light and tangy.
Most peppers feature versatile flavors that may be tailored to fit seasonal and ethnic themes. A summery, tropical pepper relish might include chopped banana peppers, orange and red bell peppers, pineapple, watermelon, honey, and hot pepper flakes. This recipe might be a delicious alternative to cocktail sauce for shrimp. It might also be tasty on honey-grilled chicken or pork chops.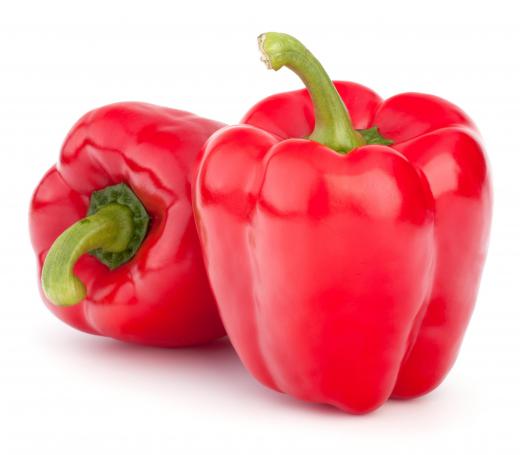 An Asian-style pepper relish would feature a rice wine base, red chili peppers, ginger, granulated sugar, onions, and apricots. The cook might also add a few dashes of soy sauce and drizzle the mixture with duck sauce. This fresh-tasting condiment could be tasty on a chicken stir-fry or served over Asian tacos. It might also become a tangy dipping sauce for spring rolls, or be eaten by itself over white rice. The uses for pepper relish are almost as endless as the flavor combinations it might contain.
AS FEATURED ON:
AS FEATURED ON:








By: stasura

Granulated sugar, which is used to make pepper relish.

By: Greg Younger

Banana peppers, which can be used to make pepper relish.

By: Natika

Sweet red bell peppers are often used to make pepper relish.

By: atoss

Hot red peppers can be used in pepper relish.

By: JJAVA

Spicy Mexican salsas are often made with diced cherry and other peppers.