Sweet vermouth is a fortified wine with an alcohol content of around 16% and a sugar content of around 14-15%. It is used as a mixer in drinks such as martinis and Manhattans, and it is also sometimes offered as an aperitif to whet the appetite before a meal. Many markets and liquor stores carry sweet vermouth, along with related beverages; it can also be purchased through import stores, for consumers who want a particular brand.
The concept of fortifying wines with brandy or other distilled liquors is quite ancient, although the recipe for sweet vermouth did not arise until 1786, when it was developed by Antonio Benedetto Carpano. Carpano added brandy to wine and then blended in a mixture of herbs and spices, including wormwood, an unfortunately toxic substance which was a popular additive in alcoholic drinks at the time. He named the drink "vermouth" after Wermut, the German word for "wormwood."
Capano's sweet vermouth had a complex flavor from the mixture of herbs and spices used, along with an alcoholic kick from the brandy which fortified it. Over time, a drier version arose; some people call sweet vermouth Italian vermouth to differentiate it from the drier French style. Italian vermouth tends to develop a red color as it is processed, while French vermouth typically remains colorless, although both use white wines as a base. Italian vermouth may be found labeled "rosso" for red, and the occasional white variety is labeled "bianco" for white.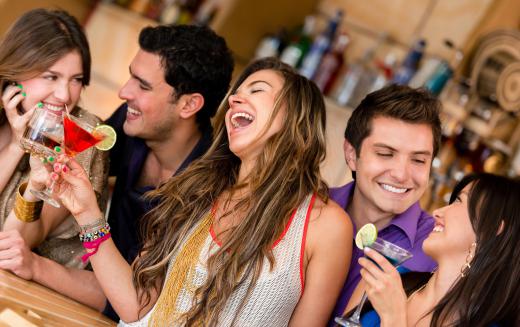 Some distillers also make a version of vermouth which blends the traits of sweet and dry. It is called "half-sweet" or "half-dry" vermouth, depending on one's point of reference, and it is suitable for a wide range of things including cooking, blending in mixed drinks, and consuming as an aperitif. When selecting vermouth, you should read labels carefully to make sure you get the variety you want, as dry, sweet, and half-sweet vermouth perform very differently and have unique flavors and mouthfeels.
Typically, sweet vermouth is reasonably shelf-stable until it is opened, although it should be kept in a reasonably cool place. Once it has been opened, it should be refrigerated and used within a year. If you are using your sweet vermouth for cocktails, you may want to consider replacing the lid with a spout so that you can easily pour vermouth for drinks. Some spouts come with regulators so that they can measure out a precise amount of liquid; this feature can be quite convenient.
AS FEATURED ON:
AS FEATURED ON:








By: keko64

Sweet vermouth is one of the main ingredients in a traditional martini.

By: Andres Rodriguez

Sweet vermouth is a type of fortified wine.