Tartar sauce is a thick, creamy sauce that is traditionally served with seafood, especially fried seafood. It can also be served with other fried foods, and some people like to use a version as a salad dressing. Many markets carry commercially-prepared sauces, but it can also be easily made at home. Home cooks can manipulate the ingredients to taste, developing a product that meets their precise needs.
The history of tartar sauce is a bit tangled. It appears to have been developed by the French as a sauce for steak tartare, a famous French dish with thinly chopped raw steak, and at some point, the name was changed to "tartar." In some regions of the world, people continue to use the French spelling. It appears to date to the 1800s, although similar sauces have been made as far back as the 1600s.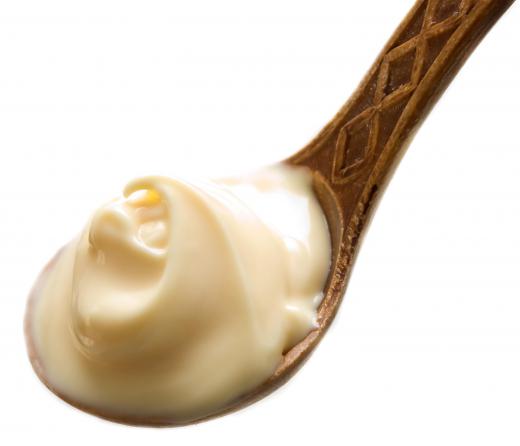 The key ingredient in this sauce is mayonnaise, which is classically mixed with a pickle relish. Other ingredients, such as capers, lemon juice, cayenne pepper, horseradish, chopped hard boiled eggs, olive, vinegar, mustard, and Worcestershire sauce may also be added, depending on taste and regional tradition. It is generally kept thick, rather than being allowed to turn runny, so that it will adhere readily to food.
This sauce has a tangy, creamy, rich flavor. The mayonnaise keeps it cool in flavor, making it especially suitable for fried foods as a counterpoint, and when lots of acidic ingredients are added, tartar sauce can be almost mouth-puckering, a trait that some people enjoy. It can be used as a dipping sauce or served directly on food, although the sauce can soften the breading on fried foods, making it soggy if it sits too long. The sauce may also be tossed with vegetables to make a simple salad.
Most cooks recommend blending tartar sauce at least an hour before it is to be used, and refrigerating it. This gives the flavors a chance to mellow and blend, with the seasoning being adjusted as needed right before service. The sauce should ideally stay refrigerated as much as possible to reduce the risk of foodborne illness, although the high acid level does help to inhibit bacterial growth. It can keep for up to a week, with commercial versions including stabilizers that keep the product good for weeks or months after opening.
AS FEATURED ON:
AS FEATURED ON:








By: Alexandra

Mayonnaise is the typical base for tartar sauce.

By: Natika

Tartar sauce often contains hard-boiled eggs.

By: Brent Hofacker

Tartar sauce was first served alongside raw steak.