What is the Difference Between Cilantro and Coriander?
Cilantro, coriander, and Chinese parsley are all exactly the same thing, which means that the simple answer to this question is that there is no difference between cilantro and coriander. These different terms are used in different regions of the world; in Latin America, for example, many people say "cilantro," while in the Middle East and Southeast Asia, people say "coriander." Incidentally, while most people think specifically of the leaves of cilantro as a seasoning, the root, seeds, and stalks can also be used.
This herb has been used for centuries in cuisines in many parts of the world, making it difficult to figure out where, exactly, it originated. The Greeks were certainly familiar with coriander, cultivating it and using it in a wide variety of dishes, and in India, coriander is used a an ayurvedic herb to aid digestion in addition to being used as a seasoning. In the Middle East, especially in Iran, coriander is believed to be helpful for people who are nervous or insomniac.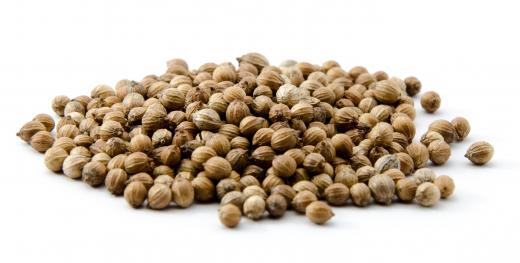 Fresh cilantro is bright green with feathery, branching leaves much like those of its relatives, which include carrots, fennel, and parsley. This culinary herb is more formally known as Coriandrum sativum, in a reference to the ancient Greek word for cilantro. The seeds and stalks have a very distinctive, piquant flavor which complements a wide range of foods, from burritos to Thai soups, and it often pairs very well with chilies and other spicy ingredients.
The ground herb sold in the market as coriander is actually made from the seeds of the coriander plant, so some people mistakenly believe that "coriander" refers only to the seed. Many Middle Eastern recipes call for ground coriander, and the seeds can also be used whole in pickling blends and other dishes, where they provide a tart, brisk flavor and a crunchy texture.
When looking for cilantro in stores, look for crisp bright green bunches which look generally healthy, with no signs of wilting, discolored leaves, or slime. You can also grow cilantro at home; the plant grows very well in containers or in the regular garden, and it tends to really take off. If you allow coriander to go to seed, it will also reseed itself, establishing fresh plants which you can periodically snip for fresh herbs. Growing it yourself also allows you to use the roots, which can sometimes be difficult to obtain.
AS FEATURED ON:
AS FEATURED ON:








By: areif

Coriander seeds.

By: zoë biggs

A bunch of coriander, also known as cilantro.

By: www.doglikehorse.com

Coriander, rather than cilantro, is the term used in the Middle East to describe the herb.

By: juan35mm

In Iran, coriander is believed to be helpful for people who are nervous or insomniac.