Whipped yogurt is a variation on traditional yogurt made with a process that increases its air content and gives the finished result a lighter texture than other types of yogurt. A variety of yogurt snacks are available in these whipped versions, and some recipes for whipped yogurt can also be made from scratch at home. This kind of yogurt also sometimes serves as a topping for other types of dessert. Yogurt-based foods are usually noted as good sources of calcium and protein, but this kind of yogurt can sometimes have fewer nutrients due to higher air content that displaces some of the yogurt.
One of the most noticeable differences between regular yogurt and whipped yogurt is the texture. Some people prefer yogurt desserts or snacks with a light and fluffy texture, while others like the heavy and smooth one in non-whipped recipe versions. The texture of some whipped yogurt recipes is often compared to that of dessert mouse or certain kinds of whipped cream. Popular flavors of this yogurt can often include strawberry, lime, and even caramel. This type of yogurt can also be made at home by combining plain yogurt with a packaged gelatin powder and mixing both with water until the ingredients reach the desired consistency.
The typical nutritional content of this type of yogurt is usually somewhat comparable to non-whipped versions. Most average serving sizes have about 160 to 180 calories and roughly 23% of calories from fat. The same yogurt amount normally has about 64% of calories from carbohydrates as well. Some types of prepared whipped yogurt can have slightly higher percentages of saturated fat than other kinds of yogurt products. Many people opt for eating yogurt with this texture to get calcium in their regular diets, though the calcium percentage can sometime be lower in whipped versions of yogurt.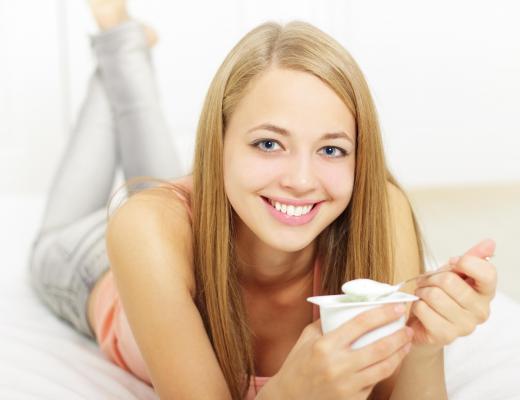 Many flavors of whipped yogurt can be purchased in grocery stores, and it can also be made as a type of yogurt sauce for other desserts. One popular dessert dish that includes whipped yogurt topping is a type of meringue known as pavlova. This dish is typically made from a mixture of egg whites, sugar, cornstarch, lemon juice, and vanilla extract. Once these ingredients reach the required consistency, the finished pavlova servings can then be topped with homemade whipped yogurt. This topping is usually made from unflavored low-fat yogurt, heavy whipping cream, sugar, and vanilla extract.
AS FEATURED ON:
AS FEATURED ON:








By: angelo.gi

Whipped yogurt may serve as a topping.

By: Anton Maltsev

Many people eat whipped yogurt as a way of getting calcium into their diet.

By: Brent Hofacker

The nutritional content of whipped yogurt is similar to that of traditional yogurt.

By: nenetus

Whipped yogurt typically contains the same active cultures -- such as Lactobacillus bulgaricus and Streptococcus thermophilus -- that are found in conventional yogurts.