Which Beans Have the Most Protein?
As many people are aware, beans and legumes are a very protein rich source of food. In addition to being high in protein, they also have a high concentration of vitamins and minerals. These nutritional qualities make them a popular choice for vegetarians, although other people can benefit from eating beans as well. Although only soybeans contain complete proteins by themselves, all varieties have a fair amount of protein in every serving although some are higher in protein than others. Beans should be cooked thoroughly to avoid intestinal discomfort and its sometimes socially undesirable symptoms.
The superpower of the bean world is soybeans, which contain 29 grams for every 1 cup (172 g) cooked serving. Edamame, green soybeans which are picked before full maturity, have 22 grams of protein in every cooked 1 cup (180 g) serving. They can be added to salads or eaten like a snack food, or made into foods like tofu and tempeh. There are lots of ways to use soy in cooking, but chefs should try not to go overboard, as it is possible to eat too much of a good thing.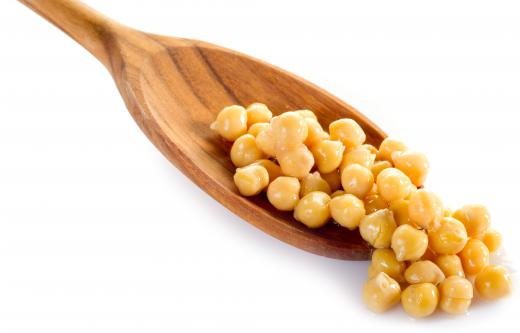 Fava beans are another protein-rich bean, with 13 grams of protein per 1 cup (170 g) serving. Lentils are also high in protein, with most lentils having around 17 grams per cup (198 g). Following close behind are red kidney beans, with about 16 grams in a 1 cup (177 g) serving. Black beans and navy or haricot beans have 15 grams of protein per cup (172 g and 182 g), while black-eyed peas, garbanzos, and limas have around 14 grams per cup (170 g, 164 g, and 170 g each).
Most beans by themselves do not provide complete proteins. A complete protein is one that contains all essential nine amino acids in the right proportions. It's common to combine them with other foods to make a complete protein, such as in the popular combination of beans and rice.
People's protein needs vary depending on weight. There are two ways to think about protein needs; in one instance, protein should make up around 20% of total caloric intake. One gram of protein contains four calories, so to determine protein needs this way, a person must figure out what 20% of his or her caloric intake should be and divide by four for the number of grams of protein needed. Generally, healthy adults need 1,800 to 2,000 calories each day, although individual needs may vary depending on health and activity levels. People should ask a medical professional about their diet if they have questions.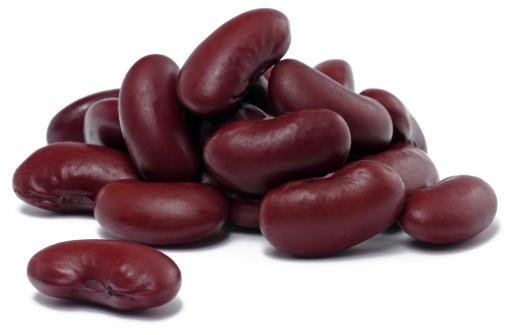 Interested people with an eye for precision can figure out his necessary protein by using his weight. Each person needs around 0.8 grams of protein for every kilogram (2.2 pounds) of weight. A person can multiply his weight in kilograms by 0.8 to see how many grams of protein he needs; some people may need as much as 1.8 grams of protein per kilogram of body weight, especially if they are physically active, so it's a good idea to check with a medical professional about precise requirements. Weight in pounds can be divided by 2.2 to get weight in kilograms.
AS FEATURED ON:
AS FEATURED ON:








Garbanzo beans are high in protein.

Fava beans have about 13 grams of protein per serving.

By: Schlierner

Kidney beans have about 16 grams of protein per cup.

By: BronxPhotog

Navy beans, which have about 15 grams of protein per cup.

By: tfazevedo

Assorted beans.

By: gitusik

Lentils are high in protein.

By: Jiri Hera

Tofu is a great source of protein.

By: Mindy W.M Chung

There are 22 grams of protein in a cooked cup of edamame.

By: Vasilius

Soybeans have the most protein of any other variety of beans.

By: Fotocat4

The kidney beans commonly used to make chili are not only high in protein but also rich in antioxidants.

By: Jaimie Duplass

Black beans have 15 grams of protein per cup.