How can I Reduce the Pain After Eating Hot Peppers?
Hot peppers are a delicious and spicy ingredient in many ethnic cuisines, and most inquisitive diners are familiar with the sensation of having bitten into a hot pepper which is too hot. The painful sensation associated with hot peppers is caused by a substance called capsaicin, which has a crystalline structure ideally designed to irritate the delicate mucus membranes of the mouth. Fortunately, there are several techniques for reducing the pain spicy peppers can cause, and most of them involve items commonly included with an ethnic meal such as rice, yogurt, and limes.
Some consumers find that drinking tomato juice or biting into a lemon or lime helps with the pain of hot peppers. This is probably due to the high acid content of these foods, which helps to neutralize the alkaline capsaicin. You can also try to dissolve the capsaicin in hot peppers with alcohol. Under no circumstances should you drink water, because capsaicin is an oil, meaning that it is not water soluble. Instead of washing the capsaicin out of your mouth, you will merely spread it around, increasing the amount of pain that you feel.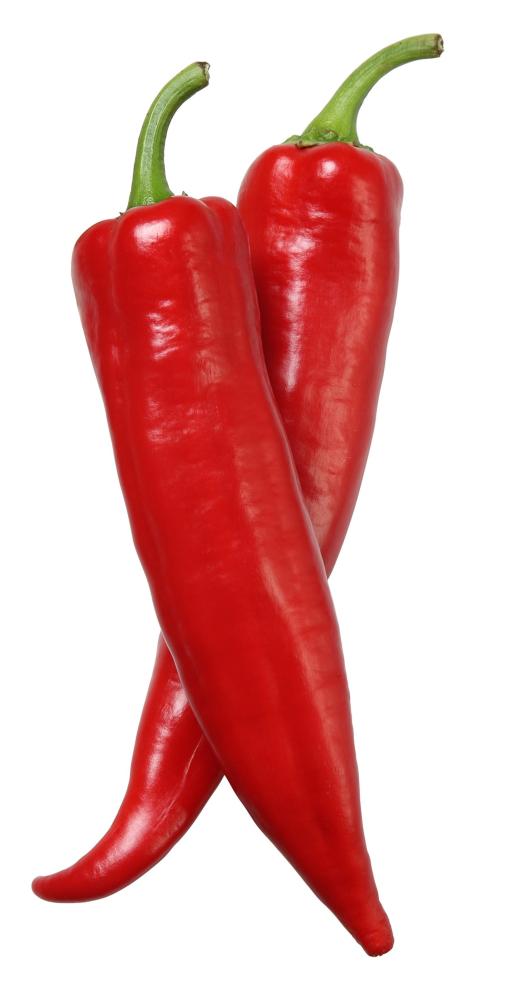 Many ethnic meals include simple carbohydrates like rice and bread such as naan. If you are eating spicy peppers, take advantage of these absorbent carbohydrates to help cut some of the bite. The capsaicin will be lifted out of your mouth, greatly reducing the amount of pain that you feel. Be cautious, though, and try to avoid heavily spiced breads, such as naan which may have been soaking in a curry.
Dairy products also help to resolve capsaicin, because the substance is highly soluble in fats. Drink a glass of milk to cut the burning sensation, or try yogurt, which has the advantage of a high acid balance as well. Many Indian meals come with small dishes of yogurt mixed with ingredients like cucumber and dill for this very purpose. Coconut milk can also help to dissolve capsaicin, but avoid spiced coconut curries, which will only increase the painful feeling. Whenever available, foods that are high in fat and/or sugar can be very useful when trying to combat spiciness. Examples of this exist in many culinary practices, such as Thai iced tea, or the use of cheese in spicy Mexican cooking.
It also helps to know how to handle hot peppers safely when cooking. When working with very spicy peppers, you may want to consider using gloves while you deseed them and remove the white ribs, as these parts of the peppers are the spiciest. Chop the peppers with care on a separate cutting board so that you do not inadvertently spice the salad or other ingredients being eaten raw, and wash your hands thoroughly to avoid getting capsaicin in your eyes, nose, and other delicate body parts.
AS FEATURED ON:
AS FEATURED ON:








Peppers, a source of capsaicin.

By: creative soul

Yogurt can ease the pain from eating hot peppers.

By: ExQuisine

Drinking iced tea may help combat spiciness.

By: Lev

Hot peppers are used to create spicy sauces and salsas.

By: kornienko

Hot peppers should be cut on a separate cutting board so spice is not transferred to other items.

By: Subbotina Anna

Avoid drinking water, which will only spread the spicy capsaicin around the mouth.

By: Andrey Kuzmin

Cow's milk and coconut milk can help ease the burning sensation.

By: Antonio Gravante

Biting into a lemon may help relieve the burning sensation left by eating hot Indian long peppers.