Falafel is a popular Middle Eastern food that is made with spiced chickpeas and fava beans that are ground into a paste, formed into balls, and then fried. The resulting patties are typically rolled up in a flatbread like pita and topped with a tangy sauce. Many people associate falafel with street food, since it is a common street offering in regions with large Middle Eastern communities; it is also possible to find it in delis or to make it at home.
Different regions of the Middle East use varying ratios of chickpeas to fava beans. In some regions, one legume exclusively is used; in Egypt, for example, falafel is made with fava beans only. The spicing typically includes onion, garlic, minced parsley, cumin, and coriander. Some cooks also add diced chilies to the mixture to make it more spicy. Flour or egg may be mixed in as well to act as a binding agent so that the falafels do not fall apart when fried.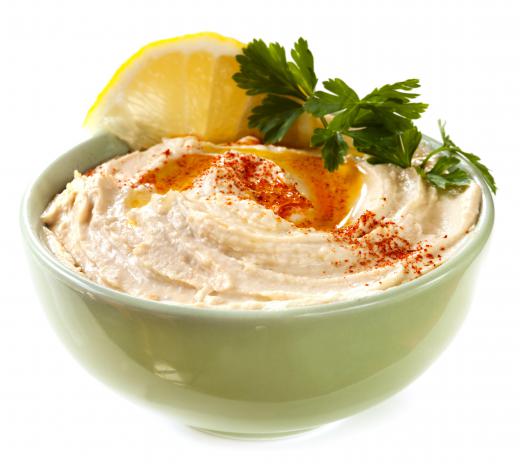 Tahini and yogurt based sauces are both used to dress falafel. When the sauce is made with tahini, it is typically very simple, with just tahini, lemon, and water. Yogurt may be mixed with lemon, dill, and cucumbers or other ingredients to make it both cooling and tangy. Lettuce is also often wedged in with the falafel, along with tomatoes and other salad ingredients in some regions.
In the United States, hummus is a common accompaniment to falafel, although this is rare in the Middle East. It is also possible to find spicy tahini sauces to make the consumption experience a bit more exciting. Depending on the region, people may be offered falafel that is stuffed into a piece of pita bread or wrapped up in a flatbread to make a cylindrical sort of sandwich that is very easy to eat while strolling.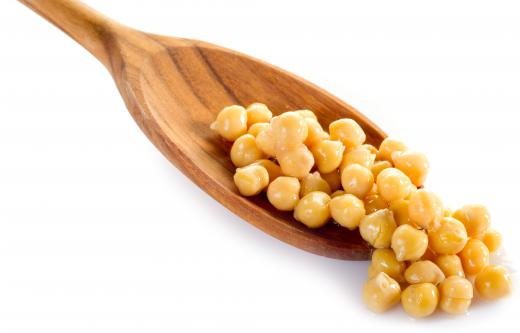 Falafel is also known as ta'meya in some parts of the Middle East. If cooks want to make this dish at home, they can purchase a pre-made mix, which greatly simplifies the process. It is also possible to purchase chickpea meal, or cooks can buy and soak dried chickpeas and then grind them. The ground chickpeas are mixed with seasonings of the cook's choice, and then fried in a deep fryer or wok. Cooks may want to use peanut oil for a less oily end product, and drain the falafel well before serving.
AS FEATURED ON:
AS FEATURED ON:








Falafel is accompanied with hummus.

By: zoë biggs

Falafel is often flavored with coriander.

Chickpeas, one of the main ingredients in falafel.

Fava beans can be used to make falafel.

Pita bread, which is often served with falafel.

By: design56

Peanut oil, which can be used to make falafel.

By: areif

Falafel spices typically include ground coriander.

By: Barbara Pheby

Parsley can be used to spice falafel.

By: www.doglikehorse.com

Falafel is a popular dish in Middle Eastern countries.