What Are the Different Types of Appetizer Dishes?
Types of appetizer dishes range from cold finger foods to hot dishes. What all appetizer dishes share in common is that they are designed to be small portions served before a meal. Appetizers can be cold or hot dips or miniature versions of a main course, such as bite-sized quiches or tiny hamburgers. Vegetables and cheeses and meats cut into bite-sized portions can also serve as appetizers. Proper planning is needed when choosing appetizers, as some do not do well sitting at room temperature.
Dips are common appetizer dishes served at events such as holiday parties or weddings. A dip can be anything from a bowl of Ranch dressing served with raw vegetables to something more complicated, such as a spinach artichoke dip or a seven-layer bean dip. Guacamole served with tortilla chips is another common dip. Hummus is usually a standard appetizer dish, served with pita bread and raw vegetables. Some cooks like to vary the ingredients in the hummus and use black or white beans instead of chickpeas.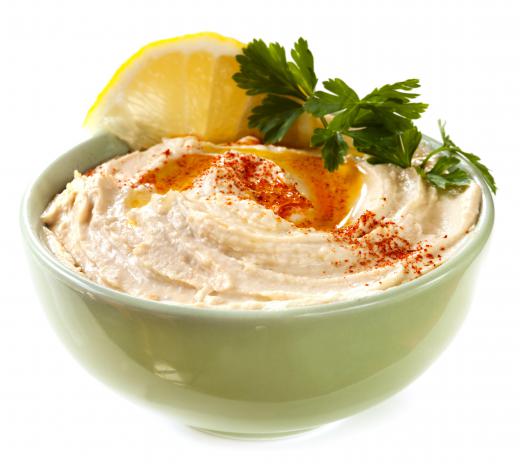 Other common appetizer dishes include bite-sized portions of food, such as mini-quiches or finger sandwiches. Sliders, which are small hamburgers or chicken patty sandwiches, are another type of miniature appetizer dish. Small quiches can contain a range of ingredients, from ham or bacon to chopped vegetables.
Appetizer dishes may be cold as well. Cold or room temperature dishes may be best served during a party, because the host won't have to worry about the dishes losing heat and flavor as the party goes on. Bruschetta, bread topped with chopped tomatoes, is a common dish served as an appetizer. Hard meats such as salami and cheese are other ideal appetizers. The meats and cheeses sit on a platter with accompaniments such as crackers, mustard, and honey. Guests can serve themselves.
Some appetizer dishes require very little preparation. A cook can place a bowl of mixed nuts on a table and call it an appetizer. An assortment of olives and raw vegetables, such as celery sticks, cherry tomatoes, and baby carrots, can also serve as an appetizer.
Certain types of hot appetizer dishes need to be eaten quickly or they will lose flavor or quality. Some people like to serve fried appetizers such as mozzarella sticks or fried ravioli. It may be better to have a waiter walk throughout the party carrying a tray with the hot appetizers so that they are consumed quickly.
AS FEATURED ON:
AS FEATURED ON:








Hummus served with pita bread and raw vegetables can make a great appetizer.

By: Elzbieta Sekowska

Certain types of appetizer dishes may need to be eaten quickly.

By: JJAVA

Piquant tomato salsa is a perfect accompaniment to multigrain tortilla chips.

By: JJAVA

Parties often serve cocktail sausages as an appetizer.

By: Matthew Antonino

Broiled, bacon-wrapped scallops.

By: Melastmohican

Soup is often served as an appetizer at restaurants.

By: Betty Abrantes

Caviar appetizer with fromage blanc and fresh herbs.

By: Lulu Durand

Vegetables may serve as appetizers.

By: MIGUEL GARCIA SAAVED

Quiche is a popular and elegant appetizer.

By: MSPhotographic

Meats may be added to crackers for an easy appetizer.

By: Mara Zemgaliete

Salami can be paired with cheese as an appetizer.

By: Joshua Resnick

Chicken wings may serve as appetizers.

Crostini with mozzarella cheese, chopped tomato and basil.

By: alejandro dans

Some appetizers, such as chicken wings, are designed to be eaten with beer.

By: dreambigphotos

Spinach dip can be served as an appetizer or hors dóeuvre.

By: Stuart Monk

Guacamole dips are common appetizer dishes.

By: Barbara Helgason

Cheese and crackers are a popular appetizer.

By: Natalia Mylova

Tapenade served with a slice of bread is a popular French appetizer.

By: Lsantilli

An antipasti platter.

Salmon canapés with crème fraîche, caviar and dill.

Shrimp appetizers.

An appetizer with cream cheese, tomato, olive, and basil.

By: .shock

At any party, try to feature an assortment of vegetarian canapes and appetizers.