Harissa sauce is a hot sauce enjoyed in North African cuisine, most closely associated with Tunisia and Algeria, and sometimes also with Morocco. Its main ingredients are hot peppers such as piri piri, or serrano, and olive oil. Harissa sauce is a very popular and ubiquitous condiment in North Africa, where it is available in stores as well as homemade. It is also a common ingredient in recipes, such as meat or fish stew, couscous, pasta, or soup, and may be used as a marinade for meat.
There is great variety in harissa sauce recipes. Some popular ingredients, in addition to the hot peppers and olive oil, are caraway, coriander, cumin, garlic, lemon juice, and paprika. The sauce lends itself to experimentation with ingredients, and can be made hot or mild, smoky, salty, or tangy, according to personal taste. Prepared harissa sauce is sold in tubes, jars, and cans.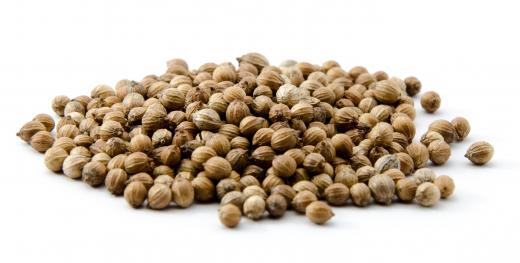 To make your own harissa sauce, begin with 10 to 12 dried red chili peppers. The flavor and hotness of the peppers you choose will determine that of the sauce. A blend of hot and mild peppers is also possible. Piri piri peppers, also called pili pili, peri peri, African red devil, or African bird's eye, are the most traditional, but may be hard to find. Central and South American chilis like serrano, cayenne, and chile de arbol also make a good hot harissa sauce.
Soak the dried chilis in hot water for 30 minutes, then drain and remove the seeds and stems. Next, blend the chilis in a food processor with two tablespoons of olive oil, half a teaspoon of salt, and, if you like, a few cloves of minced garlic. Stir in spices for flavoring. One recipe suggests a teaspoon each of caraway seeds and coriander, and a half teaspoon of cumin. Blend until smooth.
Harissa sauce should be kept in an airtight container, and can last for up to a month if refrigerated. Sprinkle some olive oil on top before storing to make sure it doesn't dry out. It may be necessary to add a little olive oil each time you reseal the container.
Harissa sauce can be eaten on nearly anything; there is no need to limit it to Middle Eastern foods. Try it on pizza, sandwiches, or breakfast rolls. In Tunisia, it is a common ingredient in the breakfast dish lablabi, a stew of chickpeas and bread.
AS FEATURED ON:
AS FEATURED ON:








By: areif

Harissa typically includes ground coriander seeds.

By: Ekaterina Lin

Paprika is commonly used in harissa sauce.

By: Food-pictures

Harissa is a spicy pepper paste.

By: Giuseppe Porzani

Chili peppers are typically used to make harissa sauce.

By: margo555

Olive oil and hot peppers are the main ingredients in harissa sauce.