Oat bran is the outer husk of the oat grain. The bran of grain is normally discarded during the milling process, which is unfortunate, since it contains the bulk of the dietary fiber of the grain, along with a large amount of useful minerals. When the bran is left on, the grain is marketed as "whole grain," and in the case of oat bran, the bran is also sold separately, for people who want to up their fiber intake. There are a number of ways to use this bran, and it is typically readily available in most markets.
There are three main parts to cereal grains: the bran, germ, and endosperm. The endosperm is the part of the grain used to make things like white flour, and it is the largest part of the grain. The germ is a small, nutrient rich area which is often extracted along with the bran, the fiber-rich outer husk of the grain. The bran is designed to protect the grain until it can sprout, providing fiber and nutrition to the growing plant until it can support itself.
One common use of oat bran is as an additive in baked goods like muffins, where it adds a very distinctive texture and rich, nutty flavor. It is also added to breakfast cereals or used alone as a cereal. Oat bran is also added to breads, increasing their fiber content, and many whole wheat or mixed grain breads may be dusted with the bran before they are baked to create a flavorful topping. Enterprising cooks also add it to pancakes, scones, and even cookies.
Several medical organizations support the integration of oat bran into the diet. The high fiber content is very beneficial, and several studies have shown that regular consumption of it may decrease cholesterol levels. It may also be a preventative for some forms of cancer, especially when integrated into a balanced, healthy diet with plenty of exercise. Groups like the American Heart Association even have oat bran recipes on their websites to encourage people to integrate this food into their diets.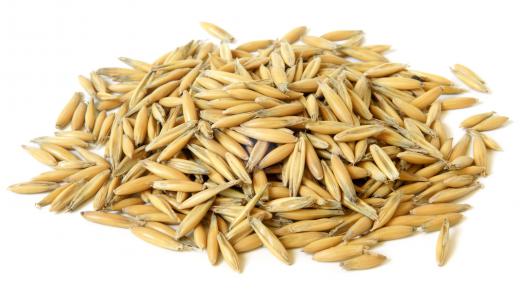 Oat bran does carry a risk of going rancid, although it is processed in a way which is designed to prolong its shelf life. It should be kept in a cool, dry place, and not exposed to moisture. If you only use a little at a time, you can keep it in the freezer, which will extend the potential usability period of this grain product dramatically. When buying products which contain oat bran, read the label carefully, as many cereals and other packaged products use the grain as a marketing technique to conceal the fact they are high in sugars, saturated fat, and other unhealthy ingredients.
AS FEATURED ON:
AS FEATURED ON:








By: marilyn barbone

Bag of oat bran.

By: eAlisa

Oats.

By: Popova Olga

Whole oats, including the bran.

By: Darrin Henry

Bran cereal is a nutritional option for people who are watching calorie intake.

By: AAA

Oat bran can be added to whole wheat bread to boost its fiber content.