How Do I Choose the Best Pastry Cloth?
A high-quality pastry cloth helps prevent cookie, pizza, or pie crust dough from sticking to your counter tops, saving you from unneeded cleanup and saving your pastry from mutilation. You should choose a pastry cloth that is made from a heavy, durable, flour-absorbent material of a size appropriate for your pastry-making needs. You should also consider whether you want a cloth with extra features such as a rolling pin cover, decorations or guideline circles.
The most important factor in choosing a pastry cloth is the material. The back of the cloth should be made of a non-slip material, sometimes flannel or food-grade rubber, to prevent it from sliding around on the work surface while you roll the dough. The front of the cloth should ideally be made of a fabric that has been specially treated to absorb flour, but not grease. This keeps excess flour from remaining on the dough and keeps it from becoming too stiff. Heavier materials, such as canvas, tend to be better than cotton, because they are less likely to wrinkle.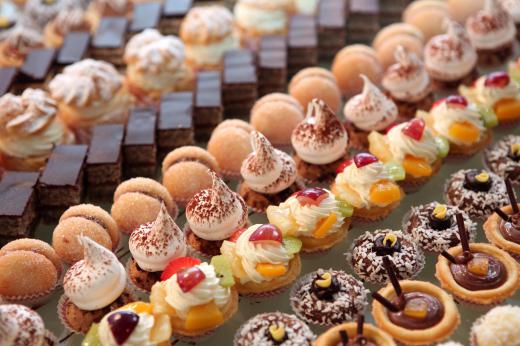 Also, consider what size pastry cloth you will need. If you intend to use the cloth only for smaller pastries like pie crusts, you may only need a 12 inch by 12 inch (30 cm by 30 cm) cloth. For making a pizza crust or rolling out a large amount of sugar cookie dough you will need a larger cloth, measuring at least 20 inches by 20 inches (50 cm by 50 cm).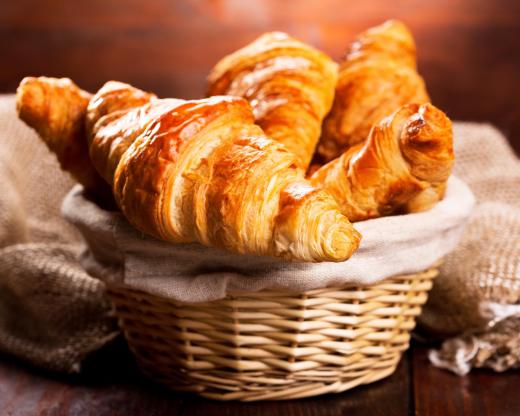 Some pastry cloths have additional features. Frequently, pastry cloths will come packaged with a rolling pin cover made of the same combination of non-slip and absorbent materials. This prevents you from needing to wash your rolling pin, which may cause it to warp. Some cloths come decorated with country-style sayings or drawings. On the more practical side, a pastry cloth may come with 8-inch (20 cm) or 9-inch (23 cm) guideline circles marked on it to help you roll your pie crust into the perfect size and shape.
Once you have invested in a good pastry cloth, it is important to keep it in good condition so you can avoid replacing it frequently. After using the cloth, wipe off any dough residue and shake it out over the sink or trash can to remove excess flour. Alternatively, you can fold it and put it in the freezer with the flour still in it. If your dough was particularly greasy or included raw eggs, you should wash the cloth with warm water and dish soap and let it dry hanging up before putting it away.
AS FEATURED ON:
AS FEATURED ON:








By: Gordana Sermek

Various types of pastries.

By: Nitr

Pastry cloths can help ensure delicate pastries, like croissants, stay together.

A chokladboll is a traditional Swedish pastry.